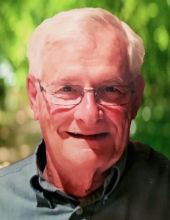 Beloved of God,
With a heart full of deep sadness and yet with great hope in the Resurrection of our Lord Jesus Christ, I write to let you know that Mal Sarna entered into the fullness of life on Saturday evening, March 18.
Malcolm Leslie Sarna was born December 30, 1940 in Pittsfield, Massachusetts to Rudolph Gleason and Marcia Alene (Young) Sarna. He was joined a few years later by a brother, Rudolph Peter (Red) Sarna.
He grew up in the Berkshire Mountains and spent his summers working on the farm next door. This introduced him to his love of agriculture. He pursued this interest at the University of Massachusetts, Amherst where he received his Bachelors degree in Agronomy. While at UMass, he participated in Army ROTC and upon graduation, was based at Fort Bragg and Fort Knox as well as serving in the Dominican Republic Conflict.
He later continued his education at the University of Maryland, College Park with a Masters in Agronomy. While at College Park, he joined the College Park Volunteer Fire Department, becoming a Lifetime Member several years ago. During his time there he made several friends that lasted a lifetime as well as began his collection of antique fire trucks. He was also a founding member and first president of CAFAA – the Chesapeake Antique Fire Apparatus Association.
He met his future wife, Joan Carol Collins on a blind date and they were married on May 16, 1971. They settled in Millersville, Maryland and went on to have two daughters, Stacey Anne and Melissa Joan.
In April 2002, he retired from the Maryland Department of Agriculture as the Chief of the Turf and Seed Division. After retirement, Mal & Joan settled on a piece of land and built a home in the Shenandoah Valley of Virginia.
After Joan's passing in June 2021, Mal moved to Windsor Point Retirement Community in Fuquay Varina, North Carolina.
In addition to collecting antique firetrucks, Mal collected antique farm equipment and was an avid HAM Radio Operator.
Malcolm is survived by daughters, Stacey Anne Sarna Amey (Christopher) and Melissa Joan Sarna Wilson (Shawn); grandchildren, Christian Gabriel (Taylor), Jacob Gleason, Graeme Michael and Elisabeth Jane Amey, Carolina Grace, Carter James and Caleb Marshall Wilson; brother, Red Sarna (Jamie); as well as numerous friends.
He was proceeded in death by his wife of over 50 years, Joan.
Loving and Eternal God,
before whom live
all who die in the Lord:
Receive your faithful servant
Mal
 into the courts
of your heavenly dwelling place.
Let his heart and soul
now ring out in joy to you,
O Lord, the living God
and the God of those who live.
This we ask through Christ our Lord.
Amen.  
"Into paradise may the angels lead you.
At your coming may the
martyrs receive you,
and bring you into the
holy city Jerusalem.
May choirs of angels welcome you,
and with Lazarus who once was poor
may you have peace everlasting."
~ In paradisum, Hymn 354
Yours faithfully,
-Mother Kathy+